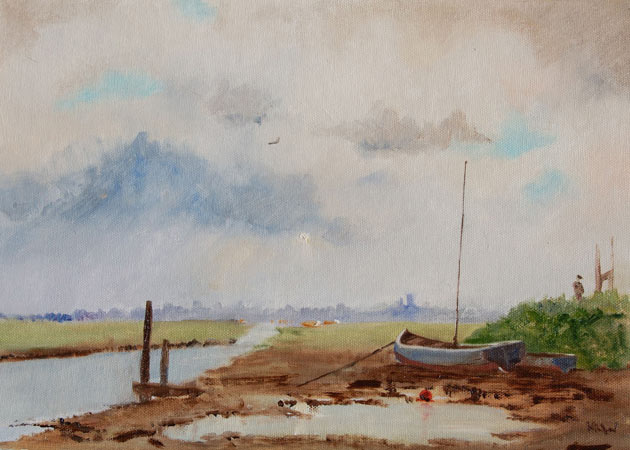 Having just written a post about child art prodigies, I now hear we now have our very own home-grown version. About time too, I was starting to feel a little left out, since America and Australia both have their own! (You can read about them
here
in my earlier post). Even better, ours is a boy (the others are girls) and works in a representational style, which is unusual for prodigies as young as he is. Kieron Williamson is just 7 years old, but apparently has been painting for 2 years. Based in Norfolk, he specialises in landscapes, and his paintings sell for figures in excess of £900. He currently has a waiting list of 680 people waiting to buy his paintings and his last exhibition sold out in less than 15 minutes.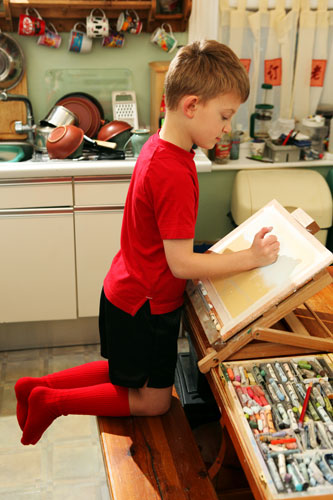 Like the other prodigies previously discussed, Kieron has a supportive background; his father is also an art dealer. There is no doubt however that his artwork is astonishingly good for his age, although not worth £900 a painting in my opinion - the prices and the waiting list, seem to be generated more by his age than the quality of the paintings in their own right, and tellingly, there have been offers to buy his schoolbooks too. I think the excessive demand is being created by those who feel that if he is going to be a 'Great Artist', then buying one of his early works for just £900 is a worthwhile long-term investment. A highly risky strategy though since child art prodigies don't always turn into adult artistic geniuses, and luckily for Kieron his parents seem to have quite a healthy attitude to his talent, being willing to let him stop painting and pursue something else if that's what he wants. Another one to watch then!
Finally, here are Kieron's top tips for landscape painting:
1
"Go on holiday to where you really want to go, and be inspired."
2
"Start with acrylics, then watercolours, then pastels and then oils"
3
When you set out to do a landscape, "start with the sky first, top to bottom."
4
"When you do distance, it's lighter, and when you do foreground it comes darker."
5
"If you're doing a figure in the winter, do a brown head, leave a small gap, do a blue jacket and brown legs. Then with the gap get a red pastel and do a flick of red so it looks like a scarf."
6
"Keep on painting."
You can read the full
Guardian
article
here
Photos by Graham Turner -
The Guardian